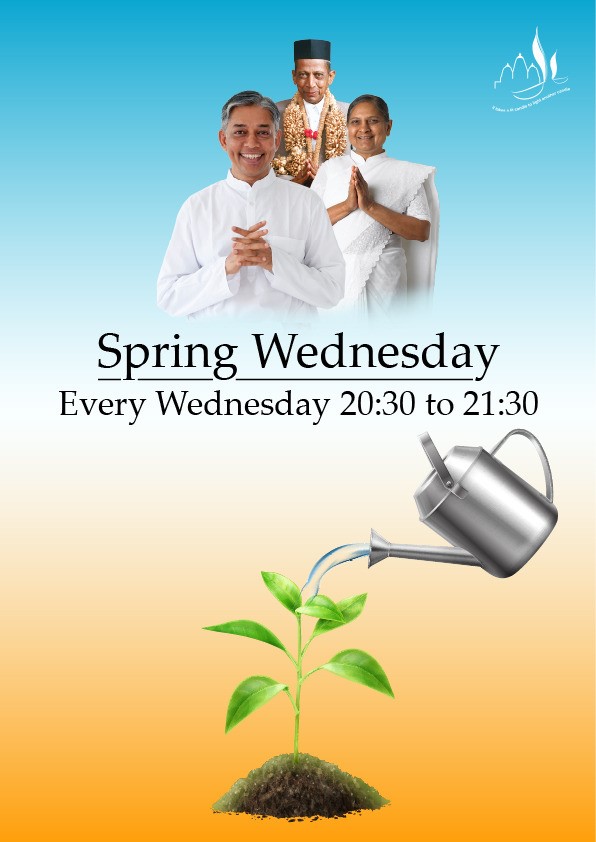 Spring Wednesday and Agna in Practice Webinar
Welcome to the Dada Bhagwan Parivar (Family)!

You have sowed the seed of eternal happiness through attending the Gnan Vidhi. Just as one nurtures the tender seedling until it is strong and can support itself, it is important to support the Gnan by further understanding this spiritual science, Akram Vignan.
Join us this Wednesday for a special launch event, and then future Wednesdays to gain further insight into Akram Vignan. These sessions, over the next 3 months, will help nurture the seed through allowing us to happily accept our lives as they are and transform relationships with those around us. Get tips on how to apply the Akram Vignan solutions in your daily life.
How to Join:
On a laptop, phone or tablet via Microsoft Teams app, click on the link below:
https://dbfuk.org/springwednesday
 For user guides on how to use Microsoft Teams please visit: https://uk.dadabhagwan.org/user-guides.html
 Agna in Practice webinar
We present an interactive Gujarati webinar Agna in Practice that will give you a refresher on the 5 Keys that will unlock the path to eternal happiness.
Please find attached 
When: Wednesday 23 June 2021
Time: 7pm – 8.30pm
Language: Webinar will be presented in Gujarati
Register for free: https://dbfuk.org/vconnectregistration
Register by Sunday 20 June 2021
Joining details will be sent after you complete the online registration.
We look forward to seeing you at the Spring Wednesday launch on 16 June.
Jai Satchitanand,
Spring Wednesday and VConnect UK teams