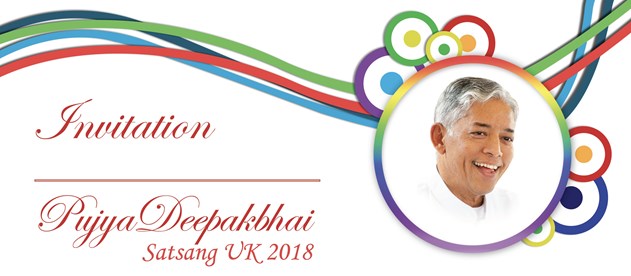 We are pleased that the UK 2018 schedule of Pujyashree has been finalised.
Let your family and friends know about this once in a year priceless opportunity to come and experience the eternal bliss attained through Self Realisation from the Current Link of Akram Vignan,
PUJYASHREE.

Please click on this link to download the schedule: https://uk.dadabhagwan.org/media/pujyashree_schedule_uk_2018.pdf
Apart from the published schedule, an informal session with Pujyashree has been organised for Mahatmas only. 
Date: 27th March 2018
Time: 19.00 - 21.00 pm 
Venue: Kadwa Patidar Centre, Kenmore Avenue, Kenton, Harrow, Middlesex, HA3 8LU.
Light dinner prasad will be served. Please let your Centre Co-ordinator know of your attendance for Prasad purposes.