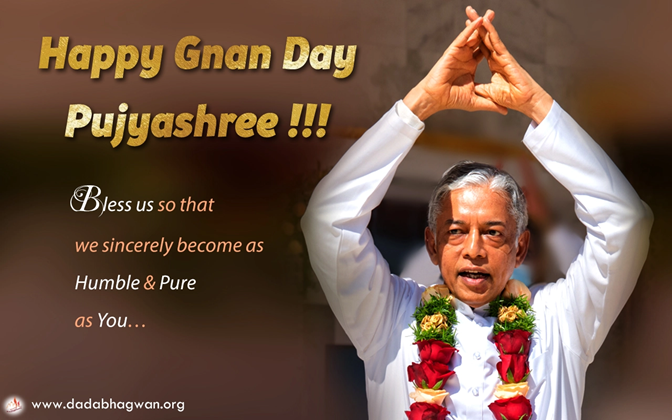 Pujyashree's Gnanday Celebration!
Jai Sat Chit Anand
Pujya Deepakbhai, an icon of humility, sincerity and purity!!!
Pujya Deepakbhai, the current torchbearer of Akram Vignan continues to grace thousands of seekers around the world through satsangs/Gnan Vidhi (scientific process of Self Realization) and has become instrumental in bringing peace and eternal bliss in the lives of many. So, let's celebrate His Gnan Day which marked the beginning of his spiritual journey. In doing so, we honour the sincerity which Pujyashree Deepakbhai embodies and affirm our conviction to emulate Him in our quest for for ultimate liberation.
Where: Dada Darshan, Unit 2, Stonefield Way, Ruislip, HA4-0JA
When: Sunday 5thMarch 2023, 10:00 AM - 1:00 PM, followed by Mahaprasad
The schedule for Sunday at Dada Darshan Ruislip:
1. Asim jaijaikar, Trimantra, Vidhis
2. Satsang DVD
3. Live Bhakti
4. Artis and Jagatkalyan ni Bhavna
Event Registration Link: https://www.eventbrite.co.uk/e/pujyashrees-gnanday-celebration-dada-darshan-ruislip-on-5th-march-tickets-567180180187
To attend the event at Dada Darshan Ruislip and for catering purposes, please register latest by Thursday 2nd March. If you are unable to attend after registering, in order to avoid food wastage, we request that you inform us by emailing [email protected] or calling 0330 111 3232.
For those who want to join online on Microsoft Teams app:
https://dbfuk.org/onlinesatsang
Please pass this message to mahatmas around you. Start spreading the happiness!

Looking forward to seeing you all.

Jai Satchitanand
National Sunday Team