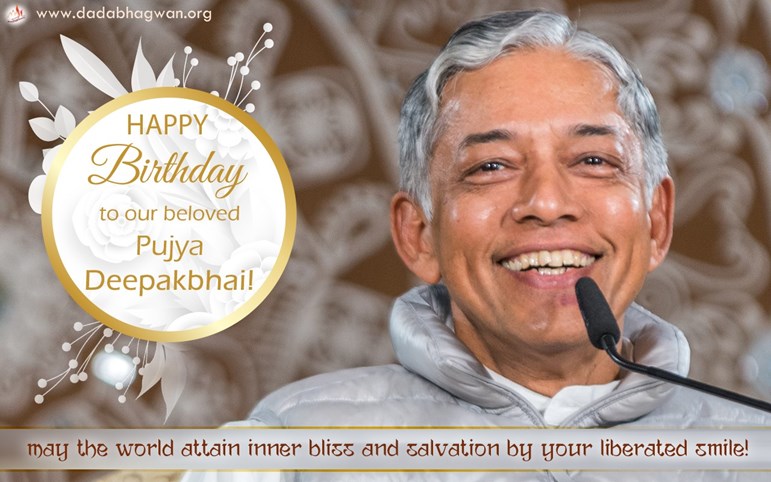 Jai Sat Chit Anand
Happy Birthday Pujyashree!
9th May is a festive day for one and all, as it is the birthday of our beloved Pujyashree! So, with absolute humility and oneness to Him, let us all come together to pray, 'By observing You, May I become as Humble as You!' 
Where: Dada Darshan, Unit 2, Stonefield Way, Ruislip, HA4-0JA
When: Sunday 7thMay 2023, 10:00 AM - 1:00 PM, followed by Mahaprasad
The schedule for Sunday at Dada Darshan Ruislip:
1. Asim jaijaikar, Trimantra, Vidhis
2. Satsang DVD
3. Live Bhakti
4. Artis and Jagatkalyan ni Bhavna
Event Registration Link:
https://www.eventbrite.co.uk/e/pujyashrees-birthday-celebrations-dada-darshan-ruislip-on-7th-may-2023-tickets-628753648087
To attend the event at Dada Darshan Ruislip and for catering purposes, please register latest by Thursday 4th May. If you are unable to attend after registering, in order to avoid food wastage, we request that you inform us by emailing [email protected] or calling 0330 111 3232.
For those who want to join online on Microsoft Teams app:
https://dbfuk.org/onlinesatsang
Please pass this message to mahatmas around you. Start spreading the happiness!

Looking forward to seeing you all.

Jai Satchitanand
National Sunday Team