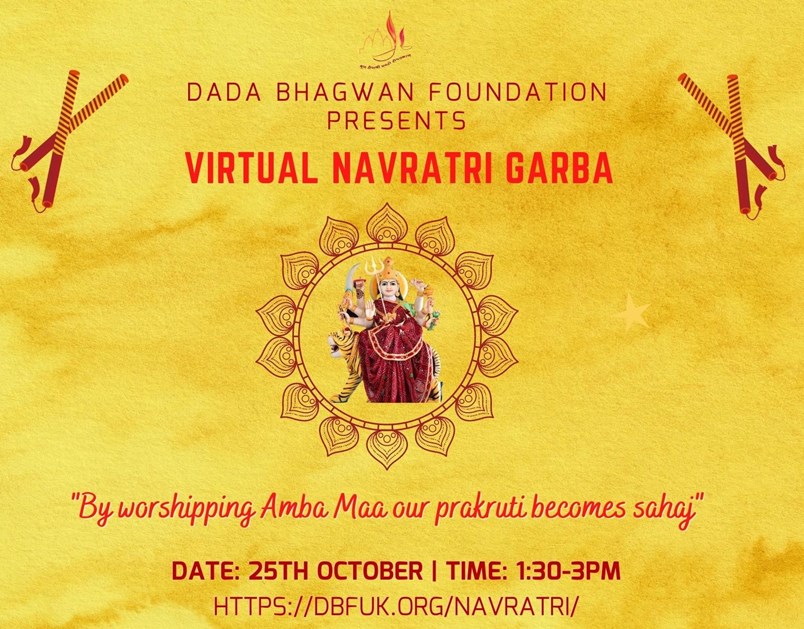 Avi chhe Navrangi Navratri! Chalo Ghumiye Bhaktima Dadai! 
Hope you all enjoyed the Navratri Bhakti event last Sunday. So what if there's a lockdown?! That does not stop us from celebrating our favourite festival! The fun continues online, this Sunday, so get into your colourful Navratri gear and.…… 
Saji-Dhaji Ne Rehjo Taiyaar!!!  
This interactive virtual event will comprise of Gnan Garba, Artis and many more surprises! This will be a unique Navratri event, not to be missed!!! Jo, Jo, Rahi na Jata!! 
When?  
Sunday 25th October 1.30 – 3.00 pm (Note the change of time and also remember, the clocks go back on this day!) so do try and join 15 minutes early to ensure any technical issues are resolved in time.  
How to join? 
To enable maximum participation for this one-off event, this event will be hosted on Zoom. 
What Preparations to make?  
When you join, check your camera setting and lighting for optimum visibility and do keep your video on.  
Get your colourful outfit ready as per the colour allocated below. 
Learn/refresh steps for Garba on the spot - 3 tali, 2 tali, Dandia, Ramjaniyu, etc! 
Keep Aarti Thalis ready. 
Start decorating Swami, Dada, Ma, Mataji photos/murtis.  
Nine Groups! Nine Colours!  
Dress & accessorise according to the colour allocated to your respective Centre: 
Orange – Ruislip 
Red – Leicester  
Gold - Birmingham and Walsall  
Maroon - Hounslow and Finchley 
Yellow - East London and Wales 
Green – South London and Kent  
Pink - Northampton and Milton Keynes  
Blue - Scotland and Bradford 
Purple - Bolton and Ashton 
So come, let's strengthen the bond of our faith and devotion towards Amba Mataji by seeking her powerful blessings to progress in life! 
Please pass this message to mahatmas around you and helping them to connect online. Start spreading the happiness! 
So, are you all ready, Mahatmas?!! Looking forward to seeing you all. 
For any queries please call 0330 111 DADA(3232)
Jai Satchitanand
National Sunday Team