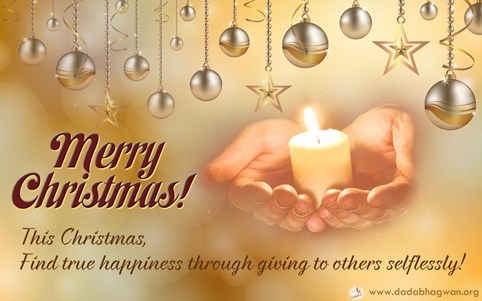 With the arrival of Christmas, someone special comes to mind - Santa Clause! Children eagerly await his arrival. He truly comes to give something special to children and brings smiles on their faces. 
Dadashri says, "Maintain an obliging nature. Give to others whatever you have. Happiness is found in giving to others. When you do for others, you will not have to do anything for yourself."
So, let us come together this Christmas and make a firm determination to maintain an obliging nature and find true happiness through giving to others selflessly.
We hope it has been a great year for you all, for making progress in Gnan. As we await the turning of 2019 and enter the 20th year of the 21st century, and the 1st year of the 2020s decade, here's an update for the forthcoming schedule for 2020.
Please click on the link below for the Key Satsang schedule 2020
https://dbf-uk.s3.eu-west-2.amazonaws.com/assets/media/key_satsang_dates_2020.pdf
Wishing you all a Merry Christmas and a very Gnan-filled, Happy 2020!