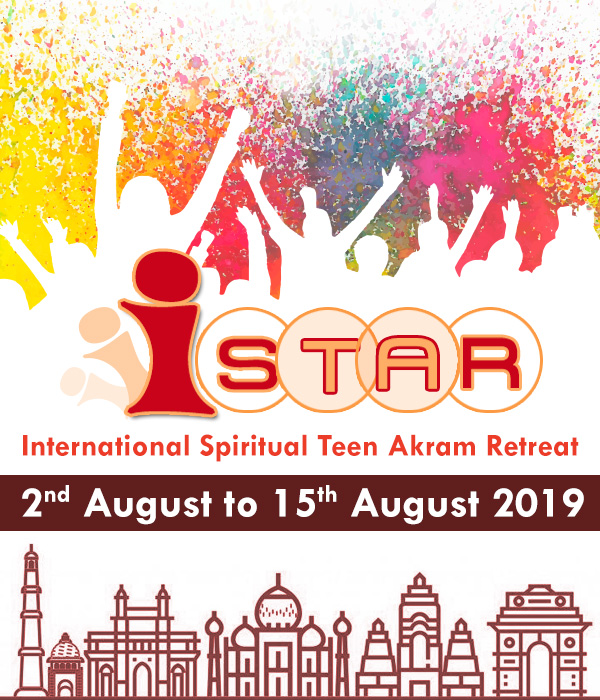 iStar is coming !!! The retreat is held for all international youth interested in learning more about Dada Bhagwan's spiritual science, the Akram Vignan.
iStar is about developing life skills, doing seva, learning about Indian culture, and lots of fun & adventure with spirituality! Don't miss it.  
                                                 Life skills
                                                  Seva
                                              CulTure
                                         Fun & Adventure
                                              SpiRituality  
              The 9th International Spiritual Teenagers Akram Retreat dates are below.
iStar 2019 Dates
Registration and check-in
Check-out

: 2nd August to 15th August
: 1st August (by 5pm)
: 16th August (after break-fast)
iStar 2019 details will be available on the istar website, istar.dadabhagwan.org, by January Month end. Registration starts from 1st week of February 2019.
Write to us on: [email protected] for any queries/questions.
The retreat will include interactive activities, a day-trip, a jatra (religious tour), sessions based on akram vignan, group discussions and satsang sessions with Aptputra brothers & Aptputri sisters. It is a wonderful opportunity for youths to visit Simandhar city and India, to interact with other like-minded youngsters from various countries.
Youth between the ages of 13 to 21 years are encouraged to apply to this unique Akram retreat. Pencil the dates in your calendar and plan to be with us the coming monsoon!

Jai Sat Chit Anand,
The iStar Team.